Agnes Chau
Transformational Life Coach, PSYCH-K® Facilitator, & Private Consultant
Agnes Chau LLC provides the strategies, tools, techniques for physical, mental, emotional, and spiritual wellbeing. Agnes helps you tap into your Divine Intelligence to overcome limiting beliefs, let go of drama stories, and be the best version of you.
Be the Best Version of You!
Tap into heart, mind, and body intelligence
Unleash Your Potential
Agnes Chau LLC specializes in transformation sessions. Agnes provides private consulting and coaching to executives, leaders, coaches, healers, and influencers. Agnes will equip you with the strategies, tools, techniques for mental, emotional, physical, and spiritual wellbeing. In a private session, various modalities may be used to help you achieve your goals and dreams.
Sessions can be done in-person, via telephone, or Zoom.
Complete the intake form when you are ready for your transformation journey.
Sign up for a transformation session or package with Agnes. To learn more about the packages offered, visit: https://www.agneschaullc.com/contact-us
About Agnes


Agnes Chau is an award-winning transformational life coach, a PSYCH-K® facilitator, and a private consultant. She is also the President and Founder of the nonprofit, The Empowered Heart, Inc.. Agnes applies her training in various modalities, and her experiences and skillsets from the corporate world, to help clients unleash the power within to be the best version of themselves. Agnes guides clients to tap into heart, mind, and body intelligence to empower and elevate themselves.
More About Agnes
Powerful Transformation Processes
PSYCH-K® is a spiritual process with psychological, and often physical benefits. It was designed to help free people's minds from the prison of limiting beliefs. The greatest gift of PSYCH-K® is the ability to change limiting beliefs that keep us from recognizing our Divinity, discovering our greatness, and becoming the peace we seek. A PSYCH-K® balance quickly helps one overcome limiting beliefs at the subconscious level to achieve your desired goals with the permission of the superconscious. Powerful balances can be requested: Core Beliefs, Relationships, Optimal Health and Wellbeing, Life Bonding, Alternative Life, Verbal and Non-Verbal Rapport, Releasing Trauma/Stress. Learn more about PSYCH-K® and the different types of balances on the PSYCH-K® page.
The "Standardization of Processes" is a valuable asset that sets PSYCH-K® apart from many other modalities. These processes have been delivering reliable results for nearly 30 years around the planet, in large part due to the integrity of these standards.
Agnes is listed on the PSYCH-K® Preferred Facilitators List: https://psych-k.com/psych-k-preferred-facilitators-list/
Teal Heart Breath™
The Teal Heart Breath™ taps into heart intelligence for transformation. Restoration of wellbeing is achieved with the support of Sun and Mother Earth energies.
Tong Ren
Tong Ren is a tapping method more powerful than acupuncture to remove energy blockages for physical, mental, emotional, and spiritual wellbeing. Agnes believes Tong Ren tapping addresses issues across all bodies (physical, mental, emotional, Divine Mercy, cosmos).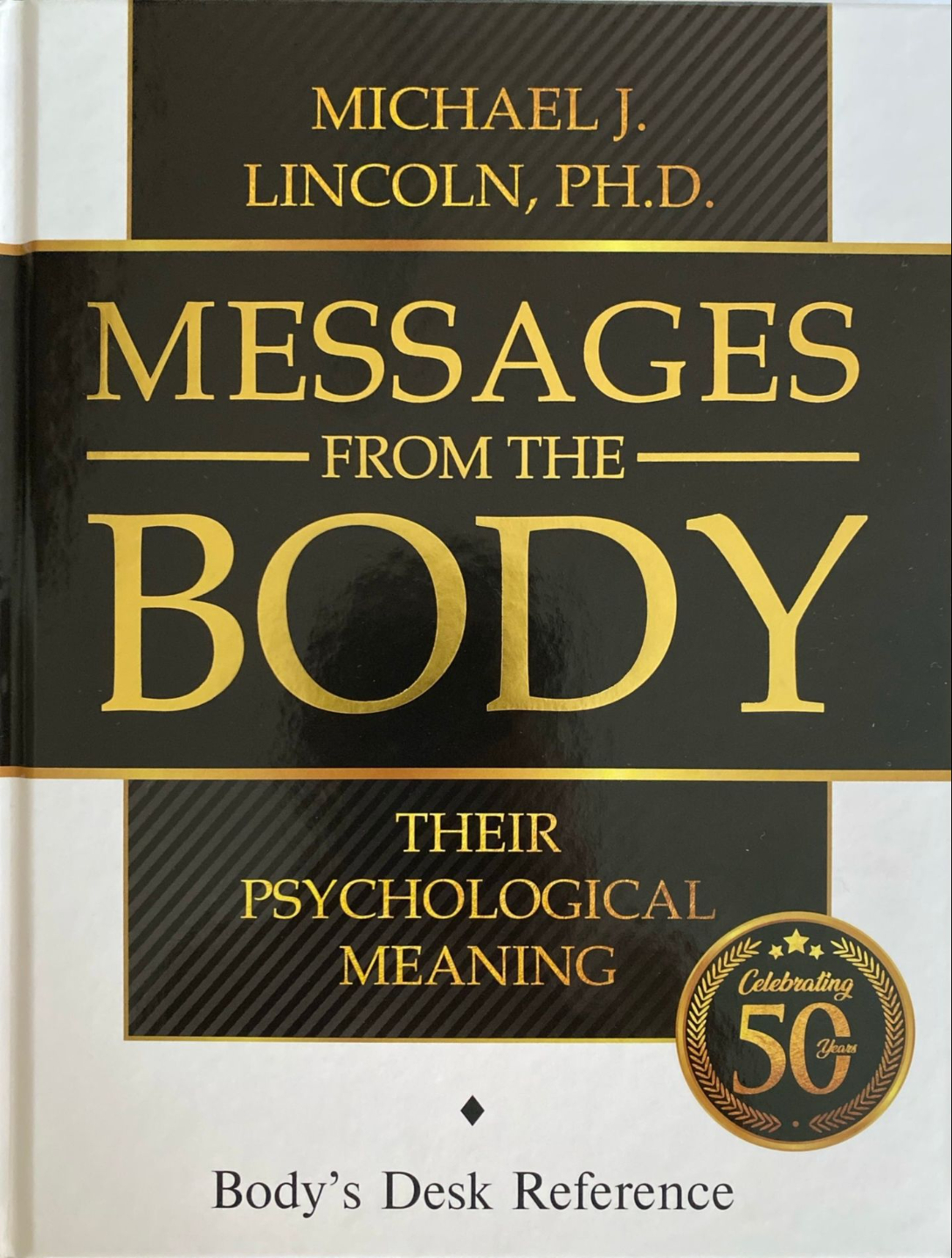 Every condition is based on belief systems (mostly subconscious). When we have physical ailments, it is our psychological and emotional bodies saying its time to let something go. 'Messages From The Body' is a great reference to understand the root cause of a problem.
A PSYCH-K® Balance is an effective and efficient way to transform the belief system and change the condition.
Buy 'Messages From The Body'
"Agnes Chau has had a powerful impact on my life and on my mother's. When I first met Agnes, I was immediately drawn to her positive energy and her excitement for her new journey. I wasn't familiar with the healing modalities Agnes spoke of, but when my mother was in the hospital facing kidney failure, Agnes unselfishly Tapped for my mom and amazingly her kidneys were remarkably better the next day.
She has taught me about the benefits of frequency music for restful sleep; it is now a ritual for my husband and I.
Her generosity with the Empowered Heart is awe inspiring and very important work. Agnes has exposed me to ways of healing mentally and physically that I could have never imagined."
Devy Walker, Owner of About Face Boutique, Scottsdale, AZ
"Agnes is very educated and knowledgeable about her healing techniques and the support she provides at the events are very transforming. I was struggling with a headache for about 15 days and after doing the tapping, I felt the shift. The next day my headache was gone and mind clear...Thank you for all your amazing work and putting the empowerment with the world out there."
Dragana Krstic, Owner of Gasija Lifestyle LLC, Phoenix, AZ
"When I'm not feeling at my best or when I find my energy at a low point, Agnes is the person on my speed dial who can help me get back on track."
Kay C., Human Rights Consultant, Toronto, ON
"I've worked with Agnes on multiple occasions and she is always a magnificent guide, educator, and support! I come away feeling more complete within myself and in the world after a session. She utilizes many techniques which blend together effortlessly and create a true frequency change. I highly recommend working with Agnes. Gratitude and Appreciation of your blessings Agnes 🙏 Namasté"
Audrey Kerger, Owner of Haus of Life, Scottsdale, AZ
"Do you know that feeling we sometimes get in life that we don't quite understand or know what it is? Meeting Agnes opened up that missing element in me. I needed to find myself again, fall in love, and reconnect with the strong beautiful soul I am. Through various methods like connecting with my Divine Self, breathing through the heart, transforming fear based emotions into love based emotions, and so many more methods, I started my journey. She will always be a blessing in my life and I'm excited and grateful for what is more to come."
Marlene Montoya, Phoenix, AZ